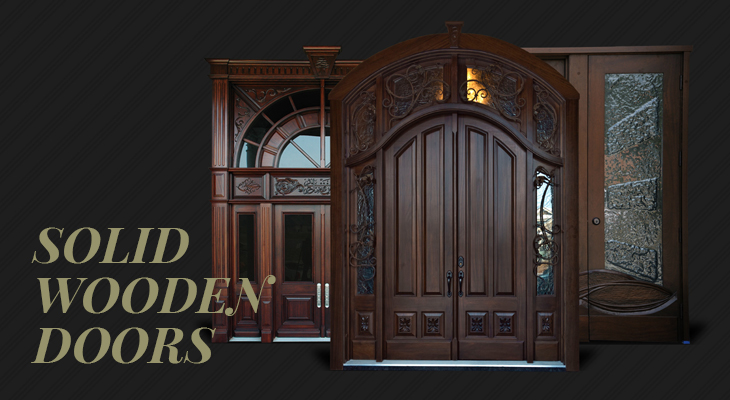 So, you're still not sure what kind of doors would be ideal for your new home or office? If you're currently in the process of deciding, we will help you make the right decision. In this blog post, we'll identify some of the advantages of wooden door installation and why you should consider wood over other materials for your doors.
Wood is the most ecological framing material which is not only a renewable resource but also a valuable addition to your house.
Wood is a good insulator
Wood is a natural and highly durable material that can withstand harsh environmental conditions. The natural composition enables wooden doors to stay unaffected by temperature changes. Since wood is a poor heat conductor, wooden doors act as effective insulators. Adding a layer of recommended paint-like materials further enhances the strength of wooden doors. Winter months in Edmonton and throughout Canada put everything to the test, your doors and other components of your house are no exception.
When it comes to insulation properties, wood is an excellent choice. No matter the weather, winter or summer, wooden doors are an ideal and provide great benefits. During winter months, they don't let warm air escape your space. In summer, they will keep your indoor environment comfortable. When you install high-quality materials to build your home or office, it helps you reduce energy bills for many years to come. Another advantage of installing wooden doors from an insulation perspective is the ease of soundproofing.
Exquisite appearance
When it comes to home or office decor, nothing can beat the classic look and design of wood. While perfectly designed doors add value to any property, wood is used to make the interior and exterior of a building more elegant. Wood can be painted in a broad assortment of colors, which means you have the freedom to choose the color that aligns best with your overall interior or exterior properties. Unlike wood, other door materials come with certain limitations in terms of appearance, design and quality.
If you want your office or home doors to be an attractive part of your overall decor, take advantage of the exquisiteness of wood.
Corrosion-resistance
Wood is known for its rust-free properties. Needless to say that exterior doors can be subject to a corrosive environment. If you want your exterior or interior doors to be rust-free and long-lasting, wood is the only cost-effective choice. Apart from being rust-free, wooden doors demonstrate excellent resistance against wind, snow, ice and rain. They also require very minimal maintenance throughout the year.
Long service life
As mentioned earlier, wooden doors are durable due to their rust-free and strength properties. Therefore, wooden doors last longer than other types of doors provided that users maintain them properly. When compared to aluminum or metal doors, wooden doors are less expensive to maintain.
About First Impression Wood Masters
If you are looking to purchase wooden doors for your home or building, make sure you buy from a reputable company. In Edmonton, First Impression Wood Maters is the place to get premium quality wooden interior and exterior doors. We get our raw materials from top wood trim suppliers to ensure our products exceed customers' expectations. Browse through our site to learn more about our products or contact us to place your order!